Growing up is the bane of my existence and I think that's why I enjoy the weekend so much - no work responsibility. I'm much happier and more myself when I'm NOT at my job. It's sad but also let's me go "Okay, I'm not on the clock, I don't have to be that person anymore." I have this weird rule for myself that I won't write when I'm in a bad mood, not because I don't have anything constructive to say, I just don't want to rely on this space as a venting, angry, teen-angsty diary type thing. And since I feel myself slipping into that place as the work week kicks off, I figured it would be better to focus on all the awesome from the shorter than normal weekend.
Saturday:

I stole this from Yelp but I keep forgetting to take a picture of the studio when I'm there !
Up bright and early for Barre class with Julie. One of the reason I keep coming back to the barre is that every class is different. Yes, the structure is overall the same (warmup, arms, legs, seat, abs) but which moves you do varies. AND even if we happen to do the same moves 2 classes in a row, Julie will change a hand position, make you hold longer, bend lower, or something so that you're challenging yourself and shaking ! Even though I'm NOT a morning person, I will gladly get up early for these classes.
Since B had to work until noon, I grabbed some coffee and hung out with the pups until he was ready to go. Then we ventured over to the North Carolina Museum of Natural Sciences because they were having their Reptile and Amphibian Day. We realized when we got there that we had caught it after the St. Patrick's Day parade had happened (which is why they have it; St. Patrick, serpents, history !). Which means tons of screaming children and parents who couldn't be bothered to take care of them. [I'm not judging or bashing parents.] I have zero patience for unnecessarily crowded places, especially when most of the insanity could have been avoided if they had some type of "enter here and file this way" to see all the animals as opposed to TOTAL CHAOS. Anyway, we went up to visit our favorite sloth friend and got to see him eating some lunch before we went and got our own lunch.
After gorging ourselves on gourmet hot dogs, we tried to venture back through the museum, took a peak at the giant pythons they brought in and abandoned it for greener pastures. For Christmas, B had bought me As You Wish by Cary Elwes and I've been eating it up. We grabbed our books and a blanket and set out to the butt.
And by butt, I mean the sculpture of legs at the North Carolina Art Museum. If you're ever in Raleigh, it's the perfect place to pack a lunch, sit outside and just people/dog watch. With so many outdoor sculptures, the scenery is pretty fantastic, plus they're renovating the side lot to include even more grassy areas to hang out in. I can't wait !

Taking a picture of B taking a picture because I'm obnoxious like that. Also, the butt.
The rest of the night consisted of griddle cooked Tilapia and a whole lot of sitting around.
Sunday:
Sunday was supposed to be long run day for B and I (22 for him, 6 for me) but B ended up having to go to work this Sunday and I just wasn't feeling it. We had a talk about how running right now just feels like a chore to me. I love it when I'm ACTUALLY running, but getting everything together and then having to drive somewhere to run, run, and then drive back, just takes up too much time that I feel like I don't have right now. Which of course sets me off in a panic because I've got an 8K this weekend, a 10 miler in 2 weeks, and a half marathon in just under 4 weeks. Now is NOT the time to be lazy.
The epitome of "Lazy Sunday"
In an effort to be productive, I went to Orla's Roll and Release Yoga class. I'm not a fan of foam rolling because I lack the upper body strength to support myself most of the time and I feel like I only have 2 pressures: full body weight or nothing at all. Orla uses Yoga Tune Up Self Massage Balls and OMG I'm in love. They have a little more give to them than the Trigger Point ones I use of B's and I will probably end up buying these based on how much better my hip flexors feel alone. There were only 3 of us, so she was able to really personalize it and showed us different ways to release tension in the glutes, IT bands and hip flexors, including how to release tension in all these places using the wall. So much easier for me to manage the amount of pressure that way.
And finally, since neither of us got a run in, B and I ended up at Moe's and going to see Zootopia. Because I'm a child. And it was amazing. It was adorable and sweet and it made me happy and optimistic and was a great way to end the weekend. If you want a fun movie to go see, check it out. It makes my heart happy to see movies like this coming out for younger generations. Hopefully, younger humans will see this and draw parallels to our own current social situation and handle them accordingly. There are plenty of adult jokes as well so don't worry ! Also, sloths work at the DMV.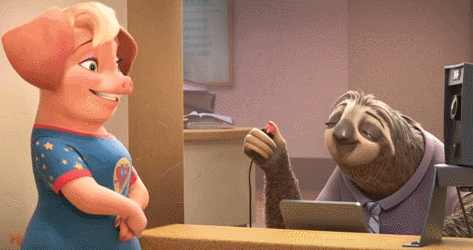 How was your weekend ?!